I briefly introduced February's G-Shock for the month, the
GW-1400DA
, but here's a more in depth review.
The first thing I noticed about this watch is that it is big and shiny. I've been used to G-Shocks on resin bands so my first metal G-Shock was a real eye opener. Some G-Shocks impress you with their size; some with their colour; but this one catches your eye with the glint off its stainless steel bracelet and bright metal bezel.
Another attention grabber is the analog dial and hands. If you mention G-Shock, most people will automatically come up with "digital watch". This one is a combination analog/digital watch. The big hands and dial are suplemented by three tiny lcd window subdials. These subdials handle all the features on this watch other than telling the time. Well, they tell the time, too.
The centre sub dial does most of the work. It displays time in hours and minutes, seconds, month date, day, battery charge level, world time (30 cities in 29 time zones), alarm, stopwatch, hand setting mode, atomic time signal reception, daylight savings mode, and automatic illumination mode. That's a lot of functions, and information for one tiny sub dial.
The sub dial to the left indicates alarm on, hourly time signal, power save mode, and charge battery. The subdial on the right is a 10 second counter.
Two other big features of this watch are its solar powered battery and the atomic time signal reception.
Exposing this watch to any light source charges its battery and it can run aproximately nine months under generally light use from a full charge. Of course wearing this watch will expose it to light constantly charging the battery keeping it running for the life of the battery. However Casio doesn't really say how long that is.
Three times a day, in the early morning, this watch will attempt to calibrate itself to a radio signal broadcast by the
National Institute of Standards and Technology
from Fort Collins, Colorado, USA. By resetting to the correct time daily, the already very accurate quartz movement (+/- 15 seconds per month) is even more accurate.
Casio has placed two LED lights at the 3:00 and 9:00 position to allow viewing in dark conditions. These are very bright and light up the whole face of the watch. In fact they are so bright, they can light up a dark room for a few seconds while they are on. Auto illumination is a mode where the LEDs can be activated by turning the watch towards your face so as to read it. This consumes a lot of power and isn't really recommended for G-Shocks run on regular batteries, but being solar powered, auto illumination isn't a problem for this model.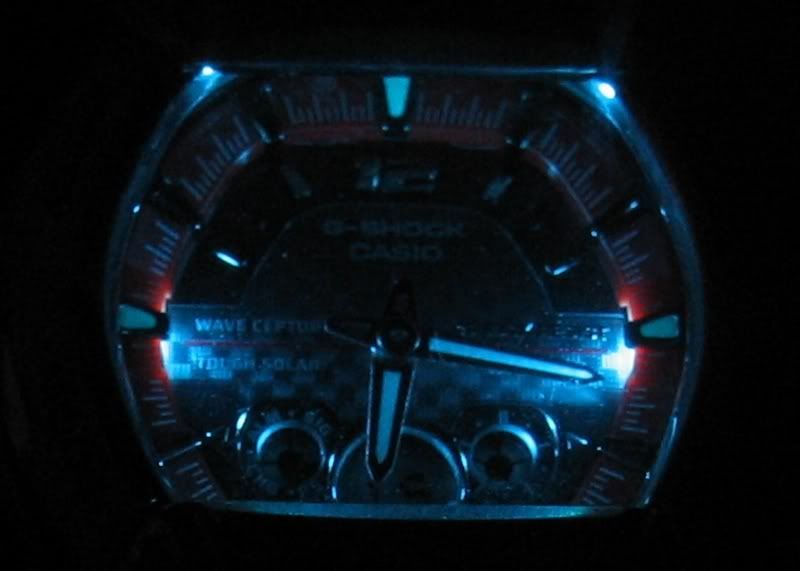 To compliment the LEDs the hands and four markers at 12:00, 3:00, 6:00, and 9:00 are lumed. This lume seems quite bright after being charged up , but does fade quite quickly. The LED lamps actually make this lume unnecessary but it is a nice feature if you want to save battery power, or do not want your watch lighting up every time you check it in the dark.
In regular light this watch is very legible. I've been noticing how quickly I can make note of the time with a quick glance at the dial. The finish on the hands and the colour of the dial work together to make the hands really pop out, especially at an angle as if one were catching a quick glimpse of the watch.
I was quite surprised at how comfortable the bracelet is after it was sized to my wrist. It is a bit of a hair puller, but I've only noticed that infrequently. It has a combination brushed/polished finish that complements the watch head. It feels solid and substantial and balances the watch on the wrist. The braclet is held closed by a push button signed deployment.
When I held the watch for the first time there was a bit of dissapointment. Being a metal G-Shock, I was expecting the whole watch head to be made out of metal. But it is a combination of plastic and metal with the bottom half being plastic and the top half mostly metal. The two materials are different visually with the metal being polished the plastic a matte grey. This look is picked up in the bracelet, but where the bracelet is all metal and feels substantial in the hand, the watch head feels tinny, almost cheap depending on how I hold it. Now I know this is a G-Shock, and therefore tough by definition but I was expecting something more from the looks of this watch. However, even the more expensive G-Shocks share this composite construction and in daily use it doesn't make any difference in performance.
Did I mention this watch is thick? It's thick. And that combined with built in face protectors means the dial is waaaay down there. The face protectors also cut off the top or bottom of the dial depending on how you're looking at the watch. In fact, it took me some time to realize that there is a lumed marker at 6:00 as at regular viewing angles it is impossible to see.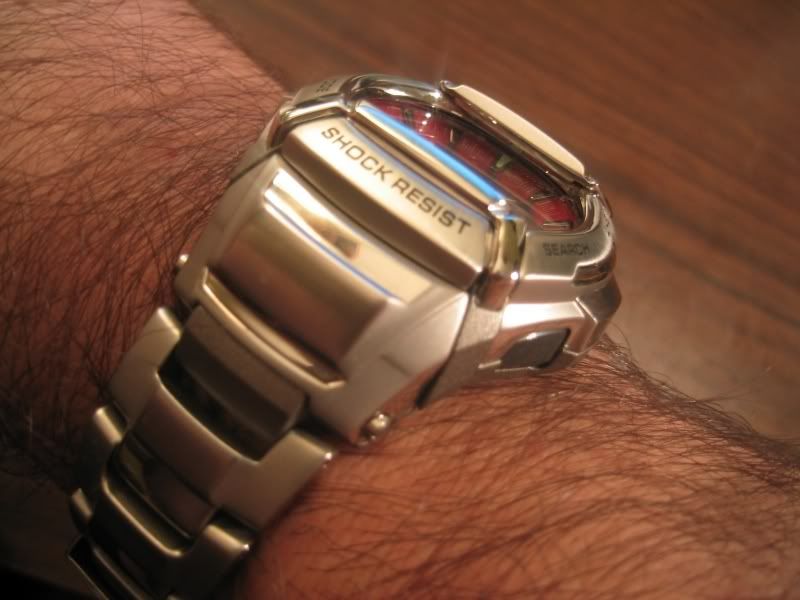 I wasn't sure about this watch at first. I bought it because I liked its looks and atomic and solar features. But the sub dials took away from the looks, I thought. And the plasticky feel was turning me off. But I knew I was wearing it for a month so I had to go ahead and live with it. But living with it hasn't been a chore, as I've grown to like the middle sub dial and tolerate the other two. And as mentioned, the composite construction of the head hasn't been a issue. I love the rest of the watch's looks and especially its legibility. I know I'll miss it in March.